Stage Eight
Shoe Room
The Shoe Room is the final department in the Crockett & Jones factory. This is where all shoes & boots are hand polished, checked, laced and boxed.
In The Making
A short video of the Shoe Room shows Bev on antiquing, Darren on last slipping, Annie on socking, Sue at quality control and finally Albie in dispatch. You will also witness the seal of approval that is the Crockett & Jones sole stamp, found on every pair of our shoes & boots.
HAND FINISHED
In the Shoe Room the uppers of the shoes are hand polished to create the rich depth of colour in the leather. We call this 'antiquing' and 'burnishing'. For some leathers this has to be repeated multiple times with the shoes being 'mopped' in between each coat of antique. The lasts are then removed from the shoes, the leather soles are stamped with the Crockett & Jones brand and in-socks are fitted. Finally, the shoes undergo a scrutinised check for quality before they can be passed for lacing and boxing.
HAND POLISHED WITH CARE
Hand Finishing has always been a feature of Crockett & Jones shoes, but in more recent years there has been a keen interest in the high shining of one's shoes. By using a high-quality wax polish and a technique known as Bulling, you can combine a little water and wax polish to protect and 'bull up' certain areas of your shoes.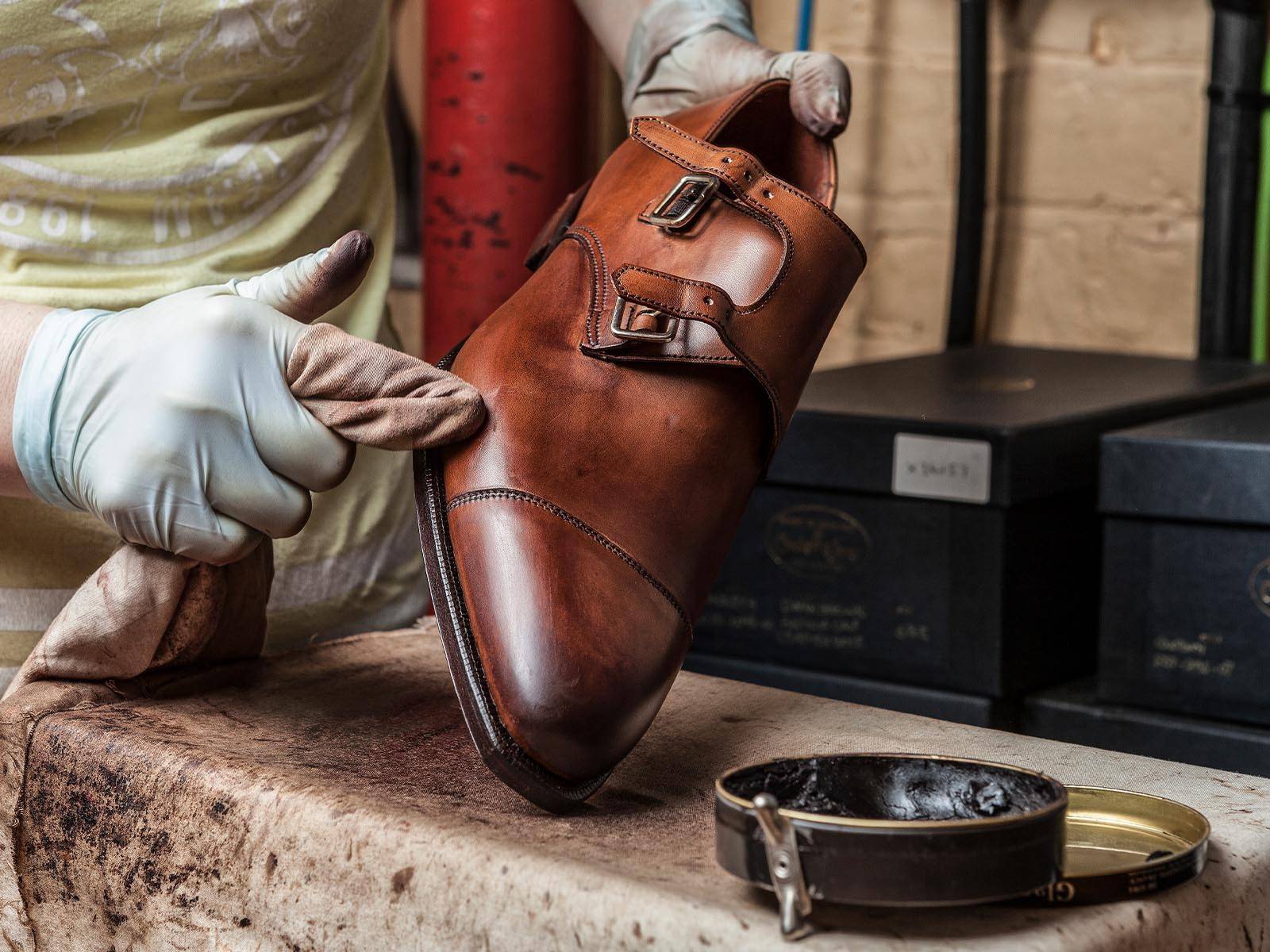 HAND BURNISHED WITH SKILL
Burnishing is done by a skilled Burnisher, who varies the tones of the upper leather by gently burning (using friction) certain areas of the shoe. This is built up in layers and takes time, care and attention. Different areas of the shoes are gently 'Burnished', giving that famous depth of colour and richness that Crockett & Jones shoes are known for.