Shoe Care
SUEDE & CALF SUEDE
Whether it is European Calf, Calf Suede tanned in England or Cordovan from Horween in North America, Crockett & Jones prides itself on using the finest quality leathers available. By doing so, we provide our customers with a product that will continue to age well given the right care and attention.
How to Care for Suede
SHORT FILM
The Suede & Calf Suede skins used by Crockett & Jones are of the highest quality, tanned in England by a specialist suede tannery. With a little help from Ben and Chris, both managers of Crockett & Jones stores in London, we have produced a short film to help you care for and appreciate the suede used to produce your fine footwear.
Step 1
REMOVE THE DUST & DIRT
Brush your shoes to remove dirt and dust. (You should have a brush specifically for this job, do not use the same brush you use for polishing your calf shoes).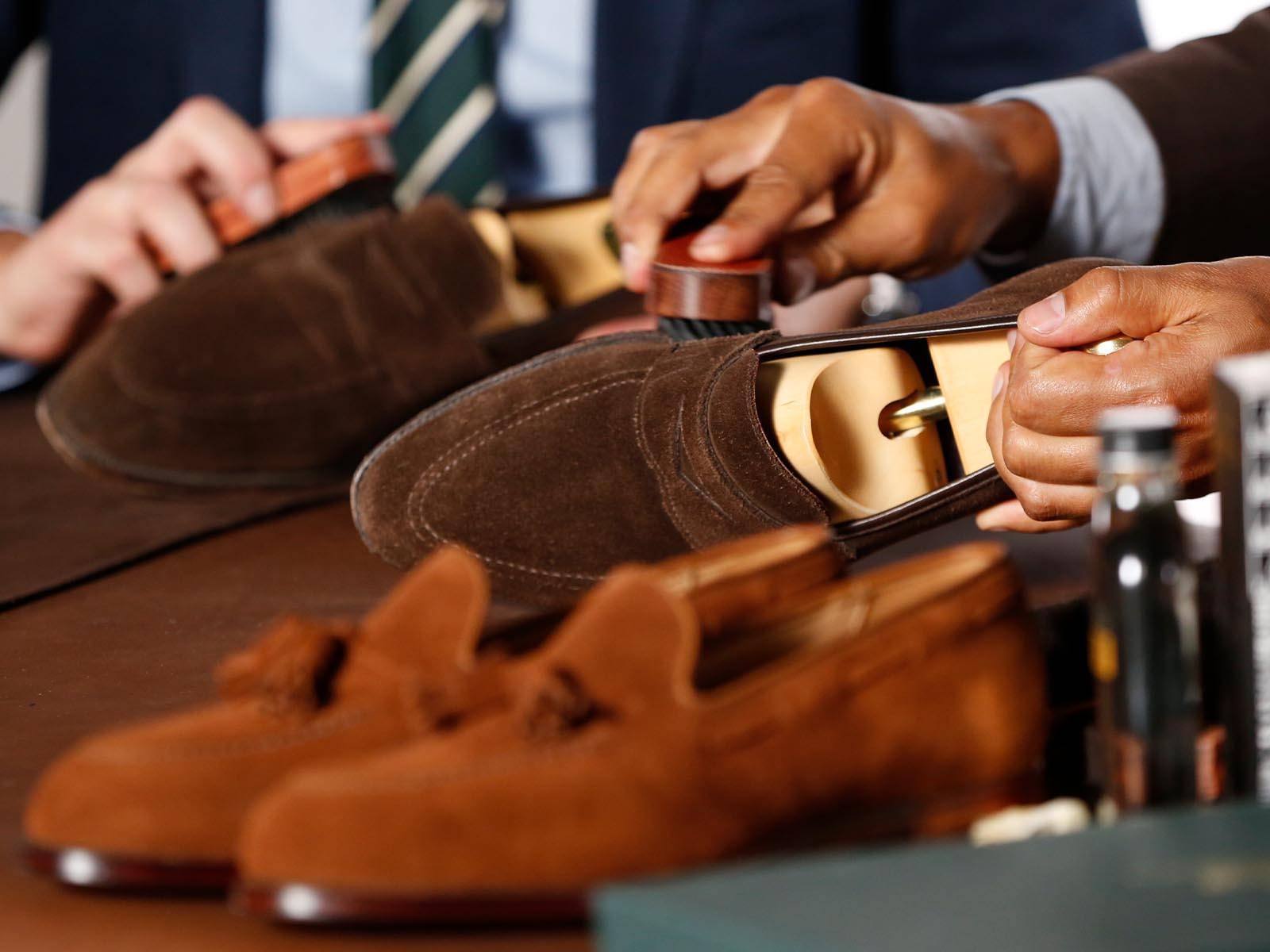 Step 2
RESTORE THE NAP
You can then use a rubber or crepe suede brush to restore the pile and draw out the nap. Be careful not to apply too much pressure, allowing the rubber/crepe to grip the nap naturally.
Steps one and two really do cover all of the monthly suede cleaning you will need to do. Suede is remarkably resilient to the elements. To further protect and rejuvenate your suede shoes/boots continue on…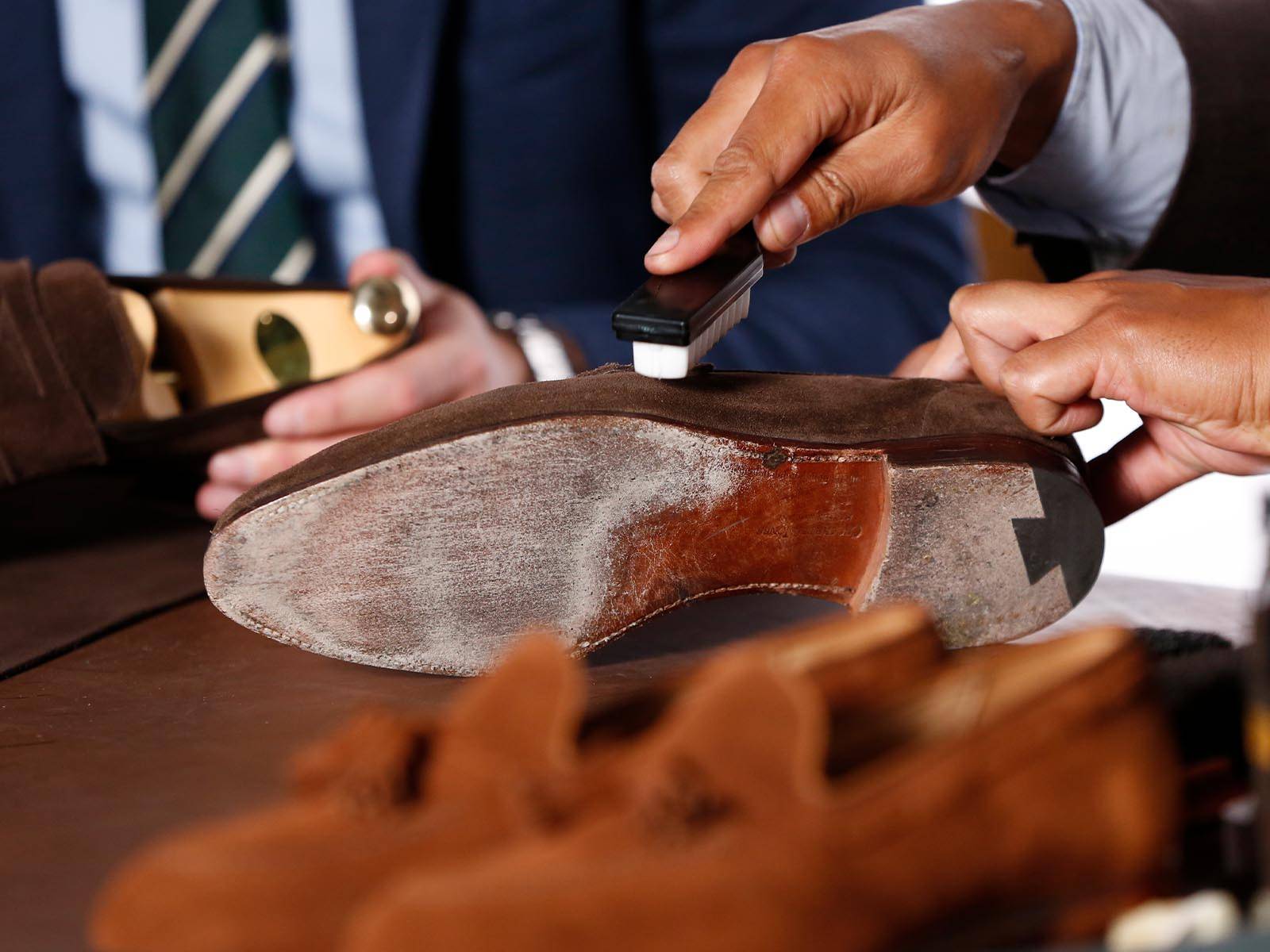 Step 3
STAIN REMOVAL
You can remove stains giving the suede a deep clean by using Omninettoyant. Use the applicator brush to add a little formula to the suede, brushing it gently into the surface. Leave to dry naturally and then repeat stages 1 & 2.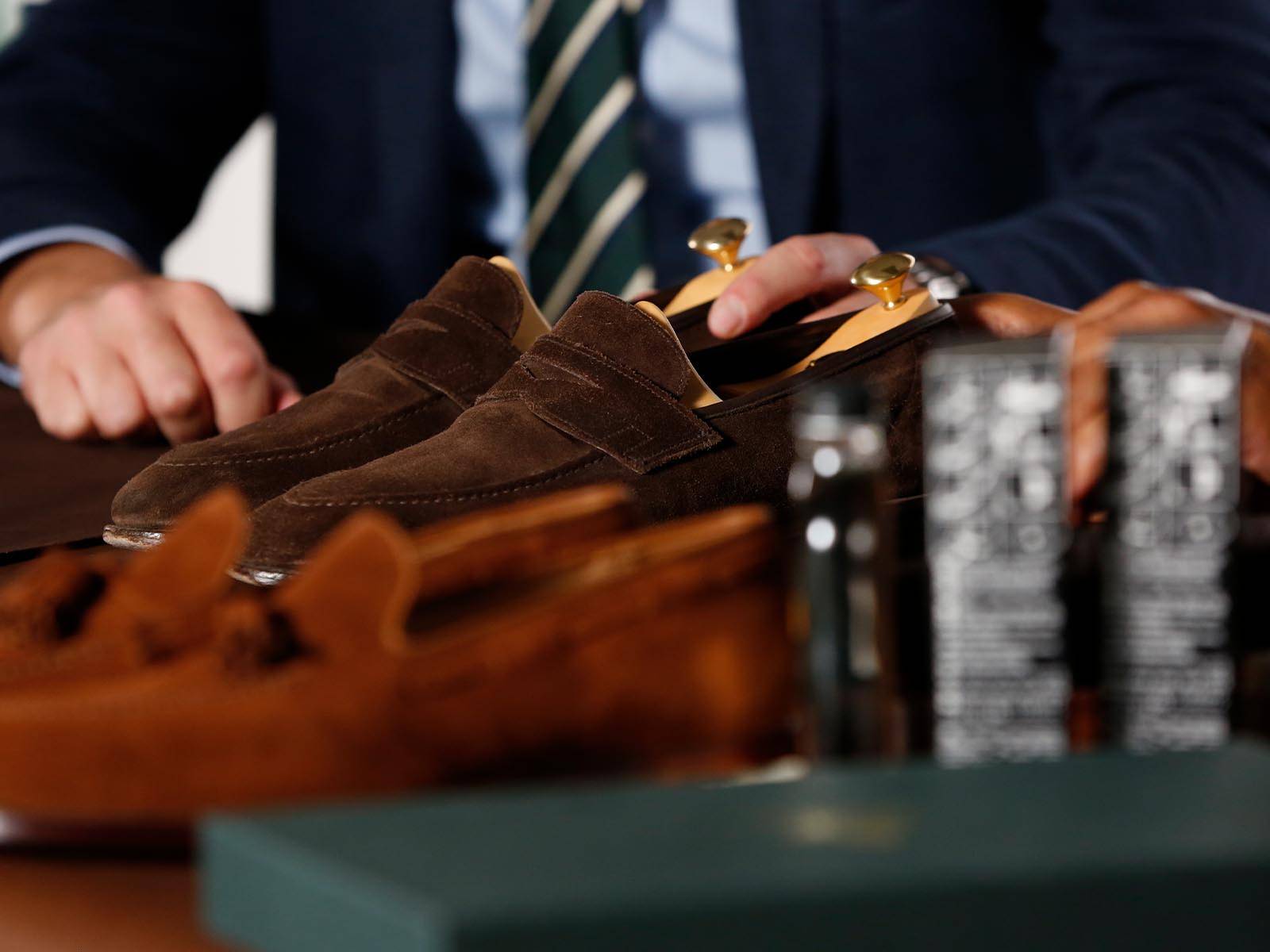 Step 4
PROTECT / NOURISH / RECOLOUR
Our all-in-one nourishing, re-colouring and protection spray can be applied only once your suede shoes or boots have been cleaned, are totally free from dirt and have been brushed thoroughly. It is important to follow the directions on the spray cans and only use in a well-ventilated environment, spraying from 8" - 10" (20cm - 30cm) away from the suede. Allow to dry for 10 minutes and then brush with a clean brush.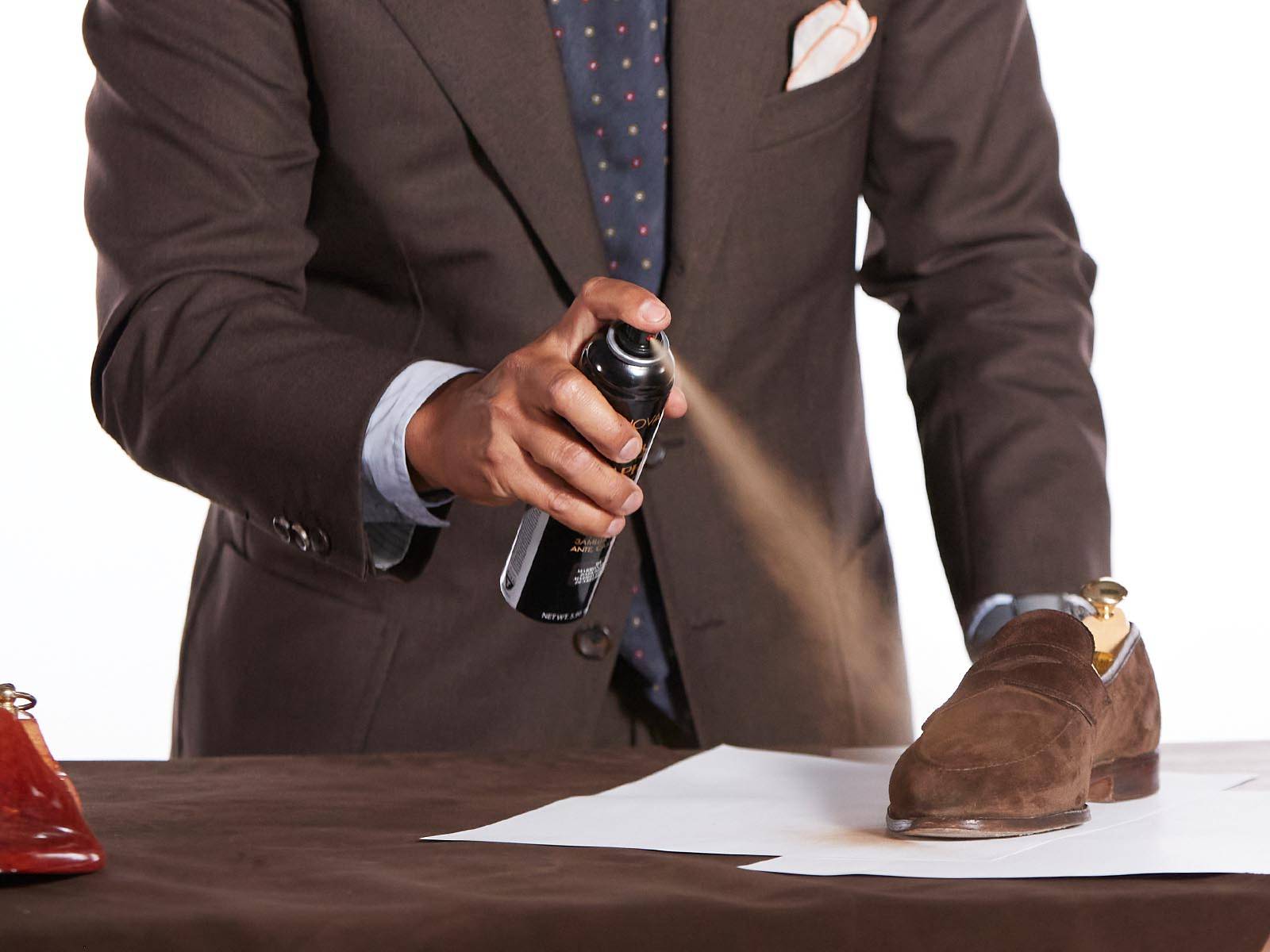 Before you get started
A FEW ADDITIONAL TIPS...
Tip 1
USE SHOE TREES - Using wooden shoe trees will help to absorb moisture and maintain the shape of the shoes as they dry out. Using a shoe horn prevents damage to the heels, counter and top line.
Tip 2
FLAMING SUEDE - If your suede shoes have become 'furry', as in the nap has drawn out from the suede, you can use a naked flame from a lighter to gently remove this unwanted nap. This longer nap can often give the effect that the suede has faded. Using a raw flame must be done with extreme caution and you must ensure you keep the flame moving at all times. Do not leave suede hovering over a flame as it will burn and damage the skin.
Tip 3
STEAMING SUEDE - Following the use of a flame, and if you do not have any re-colouring spray to hand, hover your suede shoes upside down over the steam from a boiling kettle is remarkable at bring suede back to life in the short term.
Tip 4
PROTECT FROM THE ELEMENTS - To aid waterproofing, we recommend using our Super Invulner. This impregnator spray is highly concentrated in flourished resins and is very effective against rain, snow and all types of potential staining agents such as grease and alcohol based drinks.
Tip 5
WAX CRAYON - During the manufacturing process, we ink stain and wax set the sole edges to increase water resistance. As one can imagine, soles take the most abuse during wear, coming into contact with hard surfaces regularly. At home, you can use a hard wax crayon to apply a similar colour wax to the edges where any raw fibres from the leather welt or sole are visible or where the factory wax has been damaged through wear.
Material World
Understanding Suede & Calf Suede
In simple terms, suede is the soft, fibrous underside of a cow's hide. Sounds straightforward, but like most things in shoemaking there's a lot more to it than that...