Stage Seven
Finishing
Craftsmanship is now in full flow and mistakes are costly. The Finishing Room is where a team of finishers are cleaning, preparing and adding the finishing touches to the soles, that Crockett & Jones customers appreciate so greatly.
In The Making
A short video of the Finishing Room shows Paul, Danny, Roy, Charlie, Cliff, David, Craig and Gary who, amongst a few others, make up a highly skilled team of 'Finishers'. A host of operations make up this department – Bottom Scouring, Heel Scouring, Edge Trimming, Edge Staining, Wheeling and Crowing… The list continues.
THE MARK OF QUALITY
In the Finishing Department, the heels are attached, trimmed and then scoured with emery paper for a smooth finish.
Edge trimming is the next highly skilled process, whereby the sole edges are trimmed to the specific shape of the last. This is done 'free-hand' like many other operations in Goodyear-welted shoe making. The soles and heels are then stained and hot wax is applied to the edges to provide a waterproof seal and a good shine. Various decorative finishes are applied to the soles, such as wheeling and crowing, before a final polish.
FINER DETAILS
The aesthetic arena that is the Finishing Department provides some of the finer details that can be appreciated on a pair of Crockett & Jones shoes. Wheeling & Crowing, Top Ironing and a Gentleman's Corner are just some of our trademark features.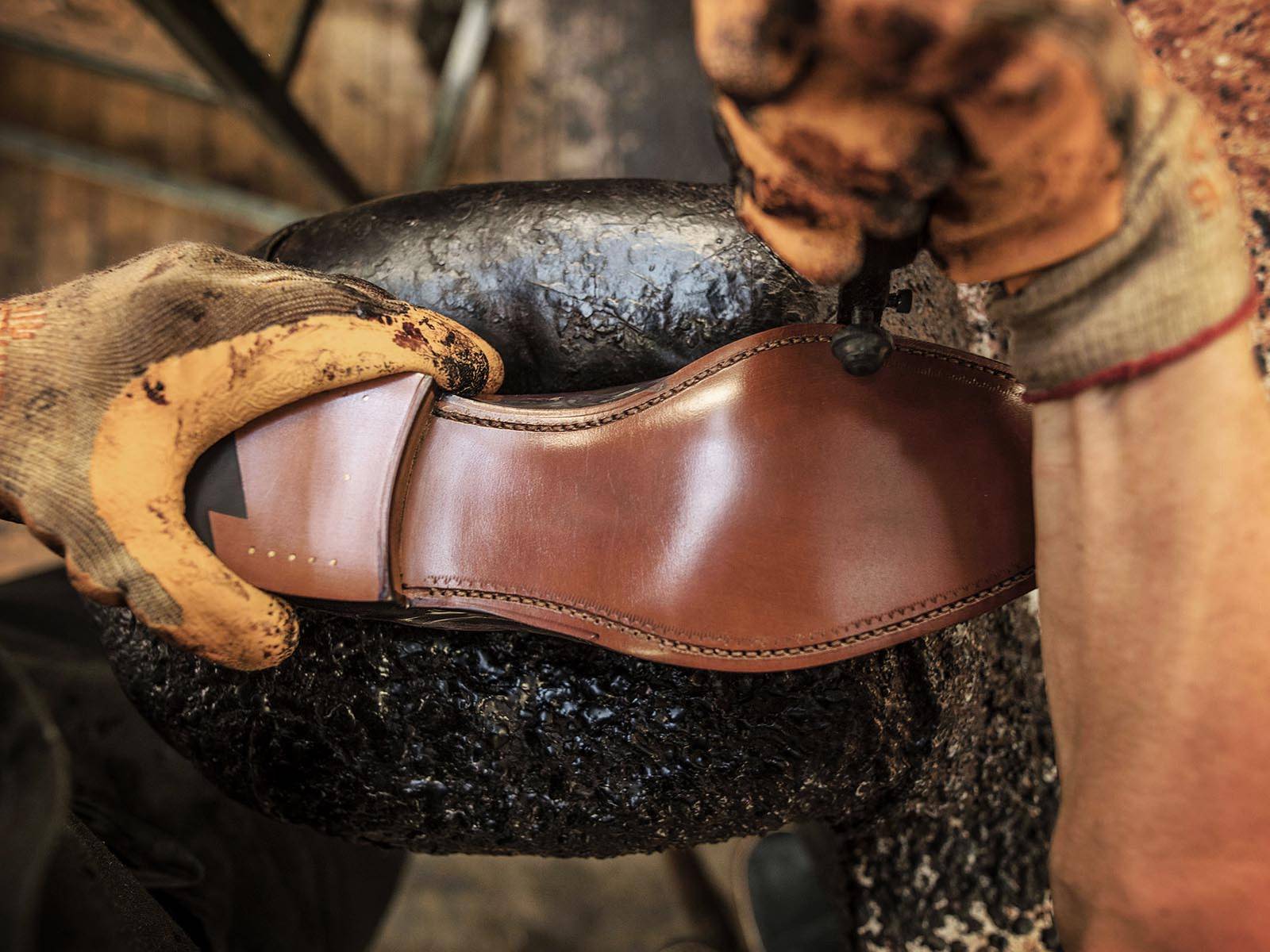 A SHOEMAKER'S SIGNATURE
Arguably a shoemaker's signature, the finishing of a pair of handmade shoes has always placed Crockett & Jones alongside a handful of other makers as one of the finest Northampton shoe manufacturers.