Crockett & Jones proudly announces its latest retail opening at 77 Jermyn Street. Jermyn Street being a mecca for menswear, shoes especially. Crockett & Jones first store opened on London's Holy Grail for footwear back in 1997, the year it first dipped its toe into 'own' retail.
Since then, Crockett & Jones' retail fleet spans the globe, ticking off the Triple Crown: London, New York & Paris. For good measure we also have stores in Brussels and the 2nd city in the UK, Birmingham.
In celebration for the launch, Crockett & Jones have created a new Shell Cordovan Loafer, Yale. Yale is made on a new last, Last 391. An on trend, short vamp last that has been specifically made for Loafer production. Shell Cordovan is a unique material that has become synonymous with Crockett & Jones over a 20 year period, nearly as long as the house has been situated on Jermyn Street. Yale also features the traditional raised heel kicker and a single leather sole…
Get the look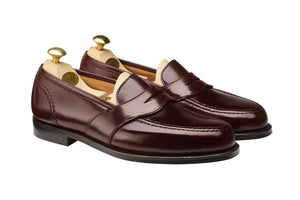 Burgundy Cordovan
The closing of our old friend, the original Crockett & Jones store at 69 Jermyn Street, could not have come at a more inconvenient time for Crockett & Jones, as the company continues to trade beyond expectations throughout 2023, with the factory pedalling hard to keep up with demand!
Never ones to dwell, we looked to the future (with haste!). 77 Jermyn Street, just down the street and part of the illustrious and well respected Crown Estate, was to be our new second home on Jermyn Street. Two stores we hear you ask. Indeed, we or more accurately, our customers, have supported two stores on Jermyn Street for more than a decade. We have the staff, the stock and the customers. Two stores was always the plan.
"We are delighted with our new shop at 77 Jermyn Street, which opened on 1st November, and equally delighted to see customers from our previous shop at 69 Jermyn Street returning once again. With its modern-classic interior design, and wide frontage with large glass window, it makes a strong impact on the street." - Jonathan Jones
Thankfully, we have captured details of the old store throughout the new space, and although it's taken a step into the modern world with its vista style glass frontage, the keen eye will notice a carved wooden doorway with the new number 77 perched on top. Inside, gives a light and welcoming space featuring traditional cabinets and high ceilings. An impressive till area and rear display showcase our seriousness towards retailing in London's most famous footwear destination.