To quote Managing Director, Jonathan Jones "To undertake long-lasting and worthwhile product development, you must understand the history of styles that has paved the way for the shoes we produce today." This is of course easier said than done when taking in today's collections, which comprise of a broad, but carefully thought about, selection of classic and contemporary English shoes.
Although we cannot open the doors to our Northampton showroom, we can share a few of the styles that have been on display in the wooden clad 'showroomseum', for almost 100 years:
Gentleman's 'Elite' Oxford. Albeit a six eyelet version, it seems the trusted cap toe has triumphed throughout the ages. The classic amongst classic. The king of kings never to be abdicated from its rightful position.
Today's equivalent: Audley, Lonsdale, Connaught, Hallam
A Sporty U-Throat. Originating from a London hand maker of the time, this pattern shows a less formal side to an early-mid 1900's gentleman. Shown here with chunky top eyelets and flat cotton laces that might be more suited to a heavy brogue Derby in today's money. A weekend shoe at best.
Today's equivalent: Courtenay, Westbourne.
Balmoral 'Elite' Walking Boot. Formal wear did not stop once you left behind your working week, an Oxford boot with punched toe cap, speed hooks and pull tab with leather lacing was all combined to be perfectly accompanied by a cane and trusted retriever.
Today's equivalent: Charlton
Ladies 'Elite' Oxford. Marked for walking, although we suspect around town rather than across fields. A sporty and rather heavy looking ladies full brogue Oxford with oversized eyelets to incorporate a wide cotton lace. A small feminine touch.
Today's equivalent: Jenny, Alice.

A fine example of the craftsmanship at the turn of the 19th century. We could not find this model in any of our archived catalogues so can only deduct that it was a bespoke model produced to ruffle the feathers and showcase the talented skill available to the management at the time. A similar style is an 'Elite' Lace Balmoral Boot, with an equally delicate toe shape offering the same pin sharp detail as found on this cap.
If you are really interested in getting up close to our old English styles, each of our retail shops houses a small heritage collection from the early 1900's. They are a true marvel and come from a local legacy that our founders, Messer's Crockett & Jones, were the finest Shoemakers in the town. Next time you are in a Crockett & Jones store, ask the staff to introduce you to our heritage...
Over the next few months, we will be getting up close and personal with all of the above styles focusing on the exquisite detail within.
The Articles. Delve into the authentic world of Crockett & Jones.
Related Products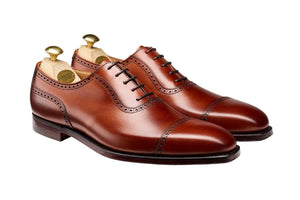 Chestnut Burnished Calf
£550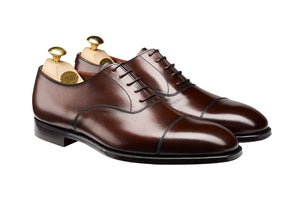 Dark Brown Antique Calf
£670
Chestnut Calf & Dark Brown Suede
£750