Identical twin brothers Hugo and Ross Turner are to climb Mt Elbrus 5,642m (18,510ft), one of the seven summits (the highest mountain on each continent) to support medical research.
However, there is a twist… One twin will wear traditional clothing from 100 years ago while the other twin will use today's modern mountaineering equivalent. Along the way they will battle temperatures down to -25C, altitude sickness and exhaustion and deadly crevasse fields, while also conducting scientific research on themselves. The climb is expected to take them two weeks to complete.
They will undergo intensive and intrusive scientific studies pre and post expedition to help support medical research programmes at King's College London's, Department of Twin Research and physiological research at GlaxoSmithKline's, Human Performance Lab. Pushing their bodies to the limit they hope to advance medical understanding in areas such as the Gut microbiome, Cortisol levels (associated with stress) and blood glucose.
After supporting the twins during Question Greenland, our adaptation of Snowdon fared well. Being the only boots not to produce blistering during the growling 10 hours treks, the boys were confident to put the boots through further testing (At their own request we might add).
Ross and Hugo returned, in person to our factory in Northampton, with their Snowdon boots in tow. Seeking advice, we quickly realised both parties were in uncharted territory…
Under the watchful eye of our Making Room supervisor, we have further adapted them to cater with icy steps at altitude. We resoled the Veldtschoen boots, adding a rubber through (mid sole) to reduce heat transfer from the climbers foot via the hob nails. Once we knew the depth of the sole edge, we fitting side nails/teeth giving lateral and forward grip both on ice and snow.
Re-enforced toe plates and heels were also used to protect the leather edges of the sole.
The Turner Twins use their expeditions to raise money and support the charity Spinal Research which is a cause close to the twins' heart as Hugo broke his neck aged 17 narrowly missing paralysis (coincidentally their father broke his neck playing rugby for England in the 70's). After this near tragic accident they continue to help fund research to find a cure to reverse paralysis.
To support the climb and donate to the charity please visit: http://uk.virginmoneygiving.com/team/TurnerTwins
To find out more about the Turner Twins' visit www.theturnertwins.co.uk
The Articles. Delve into the authentic world of Crockett & Jones.
Get the look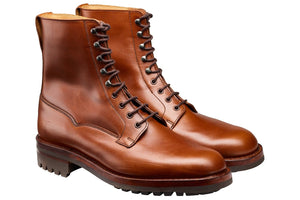 Oak Wax Hide