I have recently been clearing out my flat, ready for some much-needed building work, and it has made me realise quite how much of a hoarder I am. Particularly when it comes to shoes. So, my resolution has been to cut down on how much I own, and to only to invest in quality, that will last a lifetime if well cherished. I really could live with just three pairs of shoes on rotation, and would be quite happy to wave goodbye to high heels forever—even though I stand at just 5 foot 3 inches tall.
Here are the three styles I'd live in—the 'super models' shall we say—that will feel like best friends whenever you put them on—who needs more than three best friends anyway.
Chelsea boots have it all—comfort, ease and effortless style. I am a life-long devotee. A design born in the Victorian times, they were worn by both men and women, which they still are of course. The name is said to have been coined when the sixties were in full swing, as they were regularly seen strutting up and down London's King's Road in Chelsea. Pair these beauties with literally anything, from a leather biker jacket, to a little black dress and tights—they are truly versatile, and you will never regret choosing them in the morning. After moulding to your feet, they slip on and off in seconds, not that you'd ever want to change out of them of course—If I could go to the gym in mine, I would, and I've been known to wear them with pyjamas.
Probably my most-worn shoe is a loafer, and the Lucy style is wonderfully versatile. I am usually a black loafer-lover, but the Burgundy in this case will match with both softer, earthy neutrals, and also work with black or grey outfits—even suits. I just think they are heaven—the way the toe tapers elegantly (making legs seem longer) and then there's the richness of the leather, which will soften and crease in a way only the finest skins do. If you keep wooden shoe trees inside when you're not wearing them, they'll keep their shape and last even longer. I've recently started doing this and it makes a huge difference.
Animal print has enjoyed a full spotlight trend this year, but thankfully, I think it will always be in vogue. These quirky Silver Leopard slippers will endure years of other patterns coming and going, and they have a decadent charm, calling out for a multitude of compliments. The quilted interior makes them a dream to pad around in, but the substantial heel means they can be worn outside as well as in. They'll look elegant with a mini skirt, leather trousers or even jeans, but how about trying them with a long gown, should the occasion call for it? I know I'm now a married lady, but I would say these would also be an excellent first-date shoe.
Featured Products
Black Calf
£505
Burgundy Burnished Calf
£505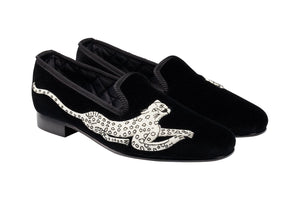 Black Velvet
£395