My career as a documentary photographer and filmmaker began as a photojournalist in the late summer of 2009, where I found myself embedded with US Army soldiers in the volatile southern landscape of Afghanistan. I had always seen conflict through the eyes of a newscaster on TV or a Hollywood film, but it would not compare even closely to what I experienced first-hand. I was drawn to war because I was simply curios. I believed that by experiencing it first hand and talking with those who had been directly affected would better my understanding of the human race. What drove people to fight one another? What did it mean to live under constant bombardment? To survive death and sorrow? I learnt one thing: war tears us apart but also makes us stronger. It can give us purpose, strength, a reason for living! Those who have survived the horror of war are by far the most resilient and strongest people I have ever met.
As a war reporter and documentary filmmaker I always spent hours upon hours in search of the perfect piece of clothing, camera, accessory and ballistic equipment. Everyone says that equipment does not make you a better photographer, filmmaker or researcher. Well I do! The reason being, mentally I'm more at ease in a war zone when I know I'm carrying or wearing the best. It might not make me better at anything in particular, but it does give me a sense of confidence knowing that what I am carrying and what is enveloping me is of the highest quality.
What separates you from a dusty riddled ground covered with IED's (improvised explosive devices) are shoes. They won't protect you from the explosive devices but they will help you navigate the field after hours and hours of patrols with military forces. What won't make your ankles roll when you are running through a sniper alley are well crafted boots built to withstand your weight of the equipment you are carrying. What won't give you trench foot are boots made with genuine leather and not synthetic materials known for making your delicate feet sweat.
My Crockett & Jones Snowdon boots have literally been through hell and back with me. They navigated the fine dusts of Afghanistan's most volatile areas. They survived multiple airstrikes in the besieged city of Aleppo and witnessed the rise and demise of terrorists in Iraq. All I had to do was to take care of them once in a while, a little wax and shine kept them happy.
This is not a paid partnership in the style of those you see on Instagram, this a love letter to generations upon generations of craftsmen and women who continue to make undoubtedly the best boots out there.
And the beauty of it all? I can wear them with a suit! They are my lucky boots. They were made to be worn.
Do you have a similar experience to share? Email us at - madetobeworn@crockettandjones.co.uk
Get the look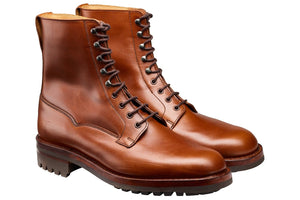 Oak Wax Hide