Made up in our signature boot styles, Rough-Out Suede is perhaps the most casual material we offer, which aids in its versatility no-end. A robust, waxed suede that is both hardwearing and water-resistant, it's one of the most practical materials a man could wish to include in his footwear collection. Moreover, while a material that's perfectly suited to the great outdoors, it steps between town and country with ease.
Our Chelsea 5 Shoe, whether in Dark Brown or Black, these Rough-Out suede colour options lend themselves to the quintessential winter Chelsea for pacing through the town & country, easily paired with dark jeans, cords, chinos or even tailored trousers in poorer weather. In fact, the Chelsea 5 is more than smart enough to wear with a suit when needs be, as is the Molton Chukka Boot. Plus, both are set on Dainite rubber soles, which ensure you can splash through puddles between taxis, just for fun!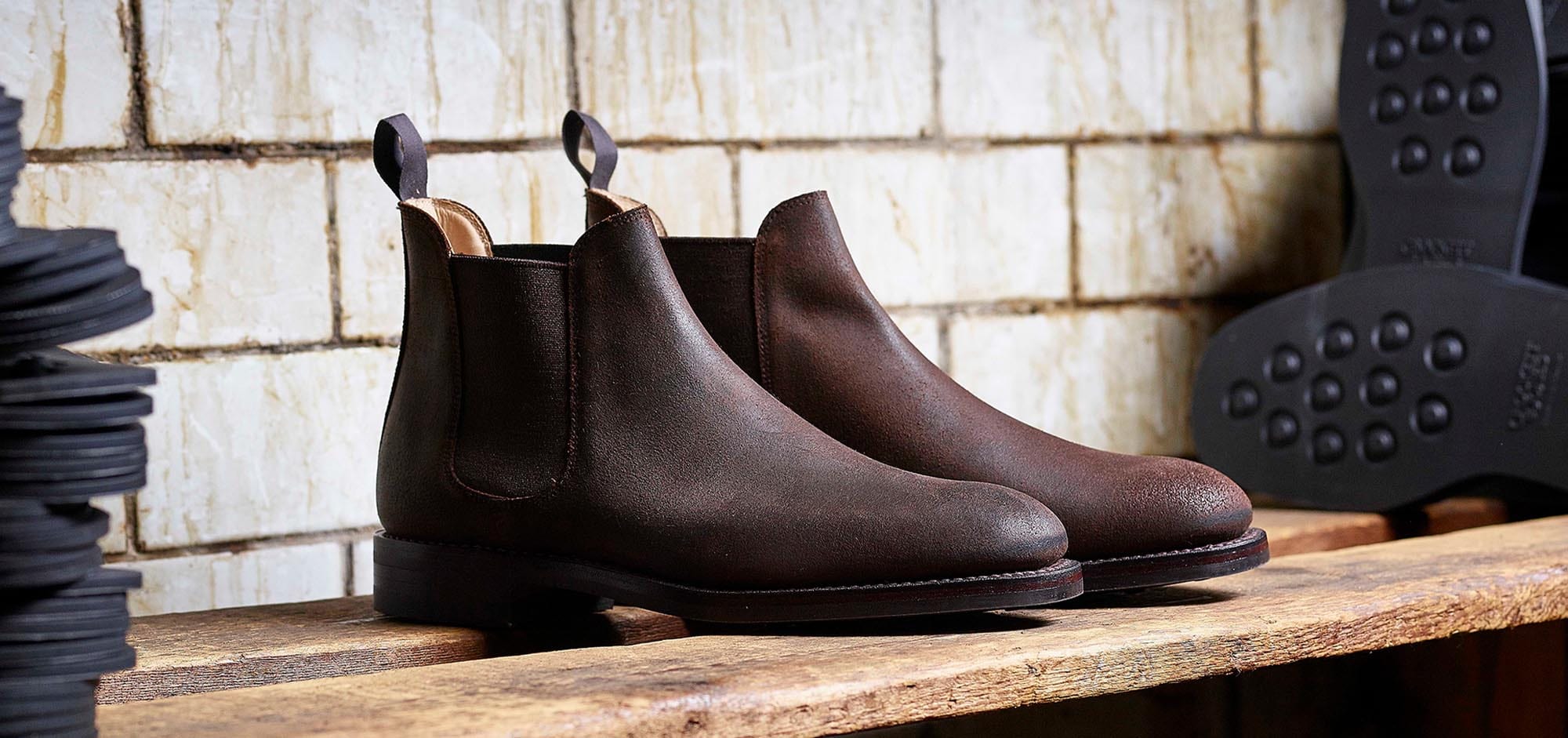 Our best known and loved boot design, the Coniston Boot, made on the much loved 325 last, is storm-welted for extra durability. Again, available in Dark Brown and Black Rough-Out Suede, it makes for a boot that's more than at home in the countryside, tramping over the dales in all weathers, sturdy under-foot with its solid construction, generous last and practical speed-hook closure that keeps each boot snug about the ankles for extra support. Pull on with a well-worn waxed jacket, chunky knit and wooly hat, and you're onto an autumnal style winner.
The latest addition to our ankle-boot collection, the Aldershot, which has more of a motorcycle boot look about it than a country tramper; it's much more East End than East Anglia, in the best possible way. We like it with dark selvedge denim jeans, rolled to show the boots' ankle straps (and those handsome contrasting materials) with hardy brushed cotton or chambray shirts and chore jackets up top.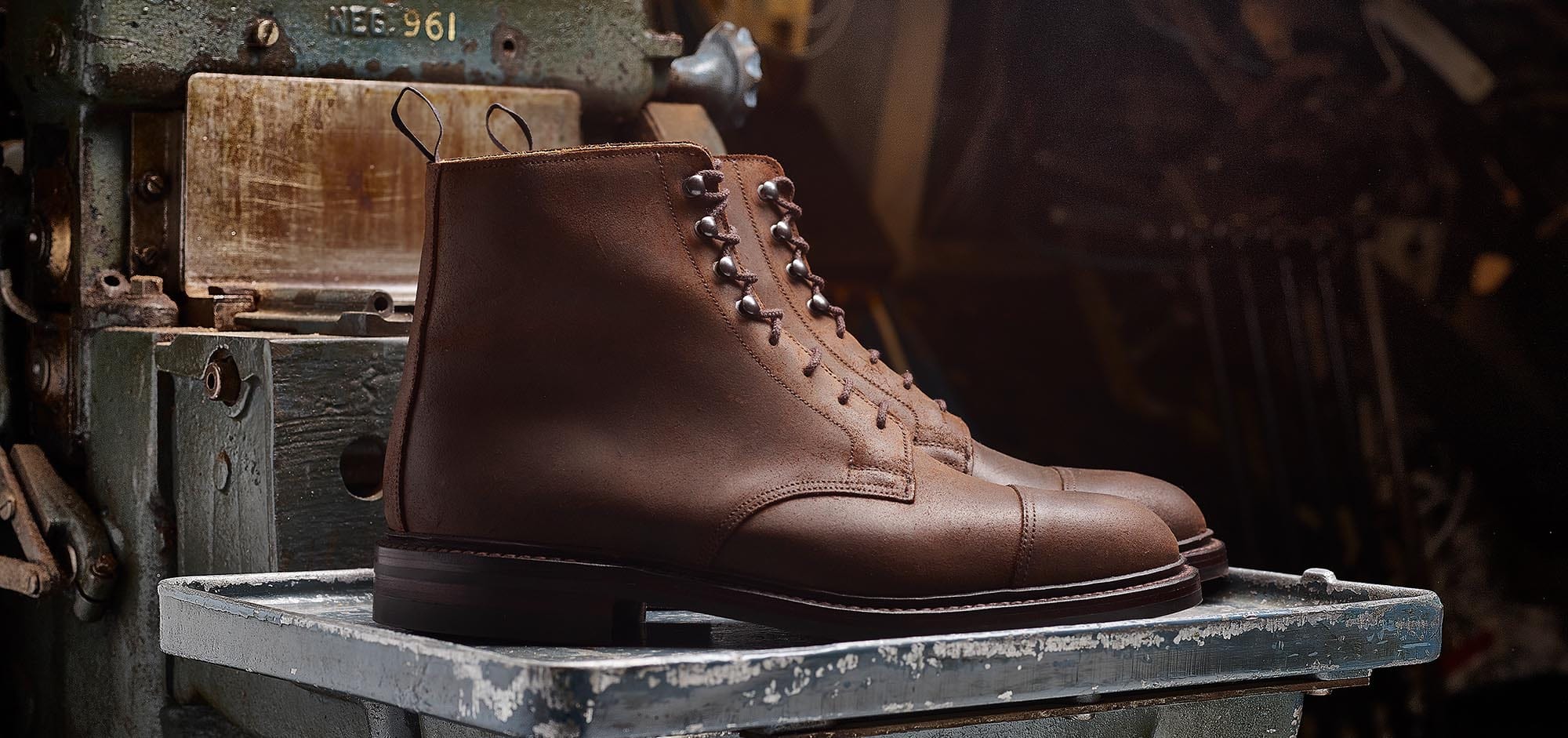 Despite its outdoor-friendly nature, Rough-Out, named by our very own Jonathan Jones gets it name from its characteristic to rough-up during wear. These rough areas give it a fantastic 'worn' and casual look that makes the material so appealing for casual use.
And don't forget, to tie your look together we also offer a belt in our Dark Brown Rough-Out suede too, so there's no excuse not to match your boots to your belt this winter, either.
The Full Works doesn't stop at style and product advice. What good is it, owning and wearing such beautifully made footwear if you do not know how to take care of them. High quality leathers age exceptionally well and given the proper care and attention will last for decades:
1. Brush your shoes to remove dirt and dust. (You should have a brush specifically for this job, do not use your horsehair polishing brush). If brushing your shoes does not remove all of the dirt, you can use a damp cloth to clean away the areas (do not use any soap or solvent based fluid). With the nature of Rough-Out being a rugged heavy-duty suede, you can be a little more liberal with the amount of water you use to wash dirt away. For very stubborn dirt, you can use a light mixture of detergent and water. Make sure you leave the shoes to dry naturally; you must not dry your shoes on a radiator or heater.
2. Once dry, spread a small amount of Dubbin (Grasse) evenly over the shoes. To do this, you can either use your fingers or by using a small shoe/applicator brush. Use sparingly each time, to build the dubbin up in layers. The Dubbin will remain on the surface of the Rough-out Suede but it will also sink in and nourish it deeply.
3. After the Dubbin has had the chance to settle into the Rough-Out Suede, gently brush the shoes all over with a back-and-forth motion, using a medium brush (slightly stiff). Try not to buff the shoes too hard as overzealous friction may cause damage to the leather surface, darkening it down.