Burgundy Shell Cordovan is perhaps the most storied and nostalgic leather in Goodyear-welted shoemaking. Closely associated with mid-century American style and the 'preppy' tastes of Ivy League students, no well-heeled individual's wardrobe should be without at least one pair of 'Colour 8s' (to use the Horween tannery's codename for burgundy) on rotation.
Currently, we offer three tried and tested models in burgundy, each of which is as versatile as the other. That said, if you have a particular shoe in mind it's always worth remembering that we can offer Cordovan in any style through our made-to-order program.
For now, though, the natural starting point for any Cordovan shoe collection is the Cavendish in Burgundy. This is our anglicised take on the classic preppy oxblood loafer, which was first popularised in the early 1960s and helped to put Cordovan shoes on the map with a whole new generation of stylish customers. We admire this shoe for its versatility; dark red tassel loafers look sleek with everything from royal blue flannel suits to washed jeans and colourful socks. In smart-casual offices, they're every bit as acceptable as classic black shoes, and just that little bit different.
Get the look
Burgundy Cordovan
If hardcore preppy style is your thing, our guest editor Aleks is known to pair his with chunky Ralph Lauren cords and thick cream-coloured Wigwam 625 socks, which have been made in the US for well over 50 years and are the preferred choice of preppy students – though we maintain the jury's out on white or off-white socks with C&J shoes!
Of course, if you're well stocked on the loafer front, we also offer the Pembroke full-wing brogue in Burgundy Cordovan; a style that's well-documented as being one of the most useful and elegant brogues we've ever made. While ostensibly an English country shoe, lasted in dark Cordovan Pembroke takes on a certain New York worthy swagger. Its punched toe caps and winged silhouette conjure romantic images of 'sharpies and broads', jazz musicians and old Hollywood style. We think it's just as easy to wear as Cavendish; sitting comfortably with everything from a three-piece suit to soft brushed cotton trousers and a denim shirt.
Loafers and laces aside, your final choice is a monk shoe – our Harrogate model, to be precise. Again, Harrogate offers a healthy mix of formal and casual design elements. It's lasted on the 341, which is relatively dressy (we use this last for a lot of our business shoes) but set on chunky storm-welted leather soles, which lend it a rugged edge. In short, it's smart but not too smart – easily dressed up or down. Incidentally, Cordovan doesn't always do too well in the wet, but thanks to its storm welts, the Harrogate will more than stand up to being caught in a surprise rain shower to two.
Get the look
Burgundy Cordovan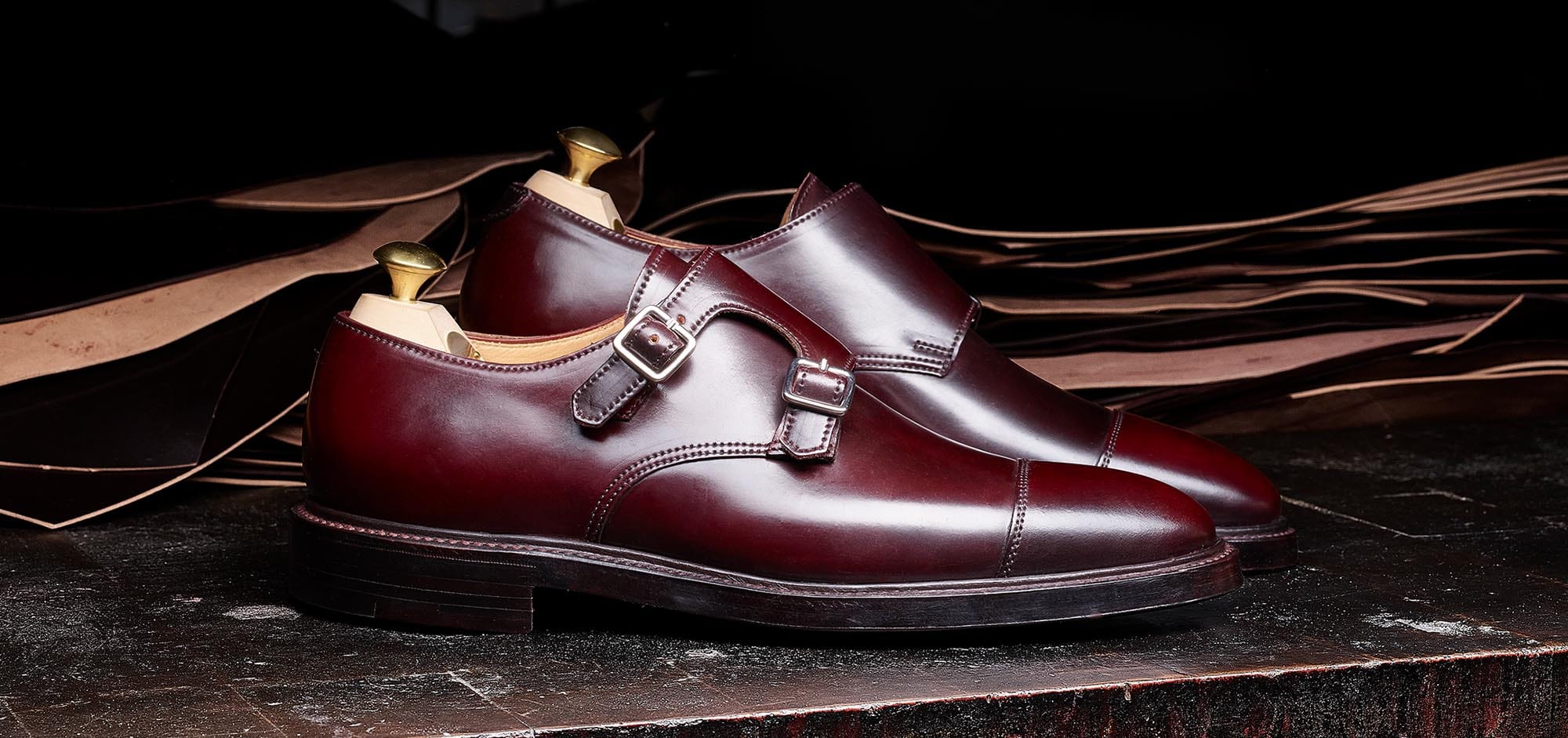 Another of Burgundy Cordovan's USPs is the way it ages. If you've owned a pair before you'll doubtless know that Cordovan behaves differently to leather, and that it needs caring for differently too. You restore a pair of Cordovan shoes by pulling a deer bone over each vamp, the natural fats of which moisturise the leather and reduce creasing. Various different Cordovan colours will change over time, and while Whisky sometimes gets a little darker, burgundy cordovan often lightens slightly and grows redder as it patinates.
To keep your Cordovan in tip-top condition, no matter it's age, we also offer Saphir's specialist Burgundy Cordovan Shoe Cream, which is designed to nourish and protect Cordovan in a way that regular shoe polish won't. It's formulated with beeswax, a high concentration of pigments and neatsfoot oil. In combination, this potent cocktail of restoratives can penetrate Cordovan's tight natural grain, which helps to maintain its suppleness and crease-resistance over time.
As with all our signature materials you'll find a Crockett & Jones Burgundy Cordovan belt with a smart silver buckle to pair with any of the Cordovan shoes that tickle your fancy. Whether it's a tassel loafer, brogue or a lace-up, there's no denying that Burgundy 'Colour 8' Cordovan has earned its place as an icon of men's shoemaking. And if you don't have a pair yet – it's high time you tried it.