Some say, and we're inclined to agree, that Derbys and Derby Boots are the perfect all-rounders. They're smart but not too smart, and are just as easily paired with a suit as they are with washed jeans and a chore jacket. This makes them really quite handy when you need some reliable shoes that will look the part no matter how they're styled or where you take them.
In other words, they are perfect for 2021; a year in which you're just as likely to be working from home or pottering around the neighbourhood, as you are to dive into the office for a team meeting, or escape to the country of a weekend for some quiet walks with friends. So, with this new reality in mind, here are three of our trustiest styles that we think are made for the moment.
First up is Sandhurst, a contemporary-looking shoe we introduced last autumn. The name belies its inspiration; Sandhurst is a plain cap-toe Derby with a military bearing. This comes care of its oversized Vibram Cleated rubber sole, reinforced metal eyelets and hardy Dark Brown Scotch Grain uppers. Those cleated soles, together with Sandhurst's storm welted construction ensure that you'll get the maximum wear out of these – from muddy walks to pounding pavements.
Get the look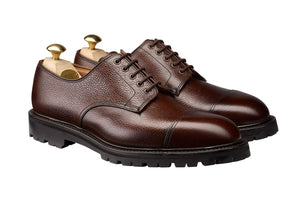 Dark Brown Scotch Grain
Dark Brown Country Calf
The Sandhurst also benefits from the 375 last, one of our most popular, which balances a medium round toe with increased toe depth and slimmed-down back part. This ensures there's plenty of room to be comfortable around your toes, while the shoe's heel box offers excellent clippage and support. Combine that with Sandhurst's shock-absorbing Vibram soles, and you've got a shoe that you can stand to attention in all day long.
The same can be said of another firm Crockett & Jones favourite, Lanark 3, which swaps toe caps for a clean, wholecut design. Like Sandhurst, Lanark is storm-welted and set on Dainite rubber soles, the less extreme than the Vibram soles. Its wholecut looks gives Lanark a dressier edge, as do its blind-seam facings. Some of our customers treat the Lanark 3 as a dress shoe, and wear it with suits and separates, but it's also an easy shoe to dress down – particularly in its infamous 'The Black Editions' colourway.
Like Sandhurst, the chunky Vibram sole on Lanark in Black Cavalry gives it a versatile bearing; casual, yet supremely stylish. Try it with olive green cords or washed chinos and a pair of thick knitted socks. Moreover, Lanark 3 is lasted on the 378, which shares some qualities with the 375 but offers a wider rounded forepart – lending itself to our fashion-forward styles thanks to today's trend for 'chunky' oversized shoes.
Of course, the other popular iteration of a derby is the chukka boot; and while we offer several chukka models, the Chiltern is a house favourite. Available in Earth Green, Snuff or classic Dark Brown Suede, each of which is thoroughly elegant and perfectly styled with chinos and a denim shirt. The Chiltern is lasted on one of our oldest Lasts the 224 dating back from 1953. Despite its age, 224 is still very much a modern looking last with its smooth-looking features, soft semi-rounded toes and a supportive fit through the arch and ankle.
Like the Lanark, each Chiltern model is set on classic Dainite rubber soles, which add to its smart-casual appeal. We think the Earth Green pair in particular make for a great weekend-ready addition to your line-up; they're an equally versatile alternative to Black and Dark Brown Calf that we all gravitate towards during the week.
Sure, it's a tricky time to be wardrobe planning, given the prolonged uncertainty of lockdowns, changes to travel and even changing timelines as to when we'll all return to the office. Even so, some things never fail to be a smart investment, and a trusty pair of Derbys or Chukkas will seldom fail to be useful, comfortable and enjoyable to wear. Snap up a pair now, and they'll be firm favourites of yours long after life returns to normal.