Today, our products and their names have become icons, personalities even. They don't just have relevance, they have become reference points of value and quality – recognisable from Crockett & Jones. It is humbling to see a style become a talking point on a name by name basis.
'One Style Worldwide', brings us to 'The Westbourne'. An Adelaide Oxford with a familiar u-throat design (under-laid punched facing) and punched toe cap. Often referred to by our factory staff as a 'Gary Oxford', Westbourne (particularly in Chestnut Burnished Calf), is a firm favourite amongst customers and has become well-known as one of the great Crockett & Jones Oxford shoes.
The Westbourne is skilfully made on our best selling Last, No.348, arguably one of the more forward thinking lasts of its generation, when first crafted in 2004. As style trends have changed over the last decade, Last No.348 has remained steadfast. Testament to an excellent fitting, elegant last that produces wonderful looking footwear of all genres. None more beautiful than Westbourne... as fine a pattern as any to appreciate the softly chiselled fore-part on show.
Available in Black Calf, Chestnut Burnished Calf, a rather fetching Blue Burnished Calf and a finely napped version in Dark Brown Calf Suede. Choices, choices...
The Articles. Delve into the authentic world of Crockett & Jones.
Featured Products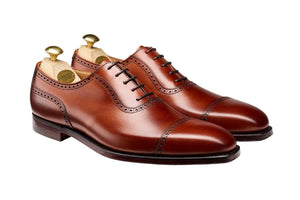 Chestnut Burnished Calf
£550
Black Calf
£550
Dark Brown Calf Suede
£530