So far in this series we've covered the humble Penny Loafer and the indispensable suede Oxford. Both are timeless smart-casual styles, but styles we nonetheless wouldn't have rushed to recommend for conservative office environments a few years ago. This third instalment in our New Office Shoes mini-series is pushing the envelope still further – proof that times really do change.
Boots have always been thought of as a casual alternative to conventional shoes, because they were originally designed to protect you from the elements, or else to wear while taking on the elements; whether trekking, marching or labouring in tough, physically demanding environments. While this residual association of boots with workwear persists today, an elegant Goodyear Welted ankle-boot is more than smart enough to dress up for a modern office. Moreover, it's useful style to tackle spring or autumn showers, or else to transition from the working day to an evening socialising too.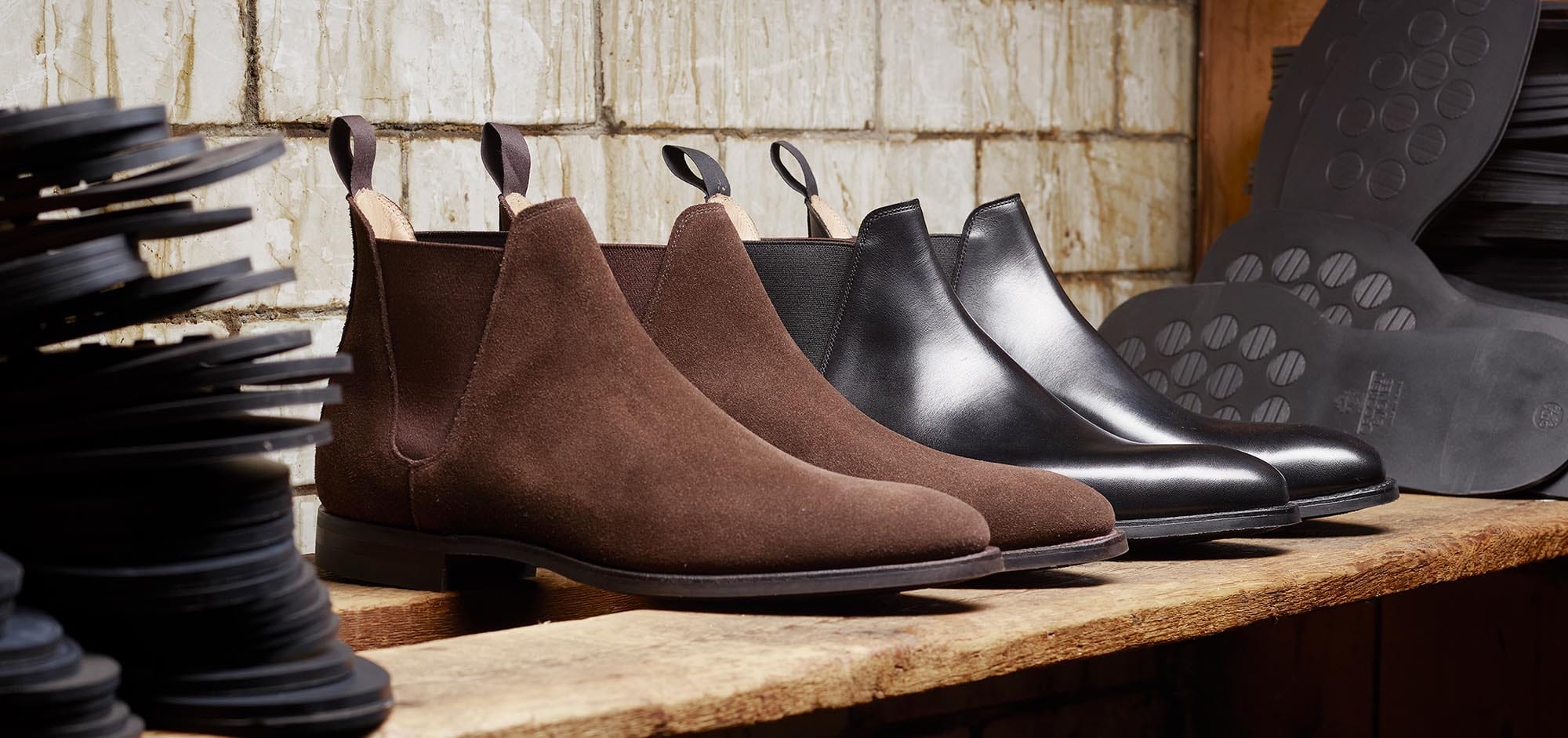 If you're thinking of experimenting with a pair of boots for business dress, the safest place to start is with a Chelsea. The Chelsea 8 is one of the most useful and best loved boots in our Main Collection, and we offer it in no less than four different materials; Chestnut and Black Calf, as well as Dark Brown and Black Suede – and we make it in a G-fitting too. In many ways, it's the perfect contemporary boot, a modern design with a long heritage that's as clean looking as can be.
We last the Chelsea 8 on the 341, which is in turn testament to this boot's versatile looks. Produced in 2003, we've used the 341 extensively for both formal and casual shoes over the years, demonstrating its versatility time and again. Its rounded toes work for dress shoes or easy boots alike. A pair of Chelsea 8s in Black Calf will work comfortably in the office, but Dark Brown Suede is a go-to smart-casual option, perfect with everything from indigo or ecru denim, through to dark blue or soft grey suit trousers.
Chelseas ticked off, you could also wear a Chukka boot. If you're a keen reader, you might have gathered recently that we make close to half-a-dozen different Chukka boots these days, but the Tetbury is arguably the smartest Chukka we offer, lasted on the 348 with strong square toes. We make Tetbury in Dark Brown Wax and Black Wax Calf, or else in Dark Brown Suede. The Dark Brown Wax Calf version is very useful, and the waxy treatment of our usual A-grade, aniline-dyed calf's leather adds some additional water resistance to these, which, coupled with Dainite rubber soles, make the Tetbury perfect for the cooler months.
We're going to resist the temptation to cover each and every style of Chukka we make here in detail, but if Tetbury isn't your thing, permit us to point you in the direction of Upton in Black Calf or Dark Oak Suede, which swap Tetbury's angular toe shape for a classical rounded silhouette. They're set on our City soles too for a profile that's a touch more svelte than Tetbury's – think of them as the spring and summer alternative here.
Finally, Camberley is perhaps the dressiest of the three boots we're proposing today, but it nonetheless straddles that useful smart-casual line care of its double-monk strap design and plain toe-caps. It's also worth keeping in mind that as a relatively high-rise ankle boot, the Camberley's two silver buckles will be tucked neatly beneath your trousers 90 per cent of the time. In Black Calf, the Camberley looks handsome with a classic suit in dove grey or charcoal, while the Dark Brown Burnished Calf is a little more relaxed – a comfortable partner to chinos or separates. Whichever colour you choose, Dainite rubber soles add depth to the boot's profile and make for a practical finishing touch.
While boots might not be the first kind of classic English shoe that jumps to mind as a go-to for the office, we hope these suggestions get you thinking. It's great to have a couple of pairs of ankle boots in the wardrobe for a bit of variety, or else for commuting in poor weather. Either way, Chelsea 8, Tetbury, Upton or Camberley are more than up to the task of giving your working wardrobe a lift this season.