Our timeless Men's styles have provided inspiration and innovation to a fine Women's collection over the years. The collection developed in-house with quality, comfort and feminine elegance in mind has always kept one eye firmly on our successful and long-standing Men's best-sellers.
First introduced into our Men's Collection in 2018 as part of our original 'The Black Editions' trio, Chelsea 11 is Crockett & Jones' ultimate winter Chelsea Boot. Now available in two Scotch Grain colourways and Slate Suede, new for Autumn Winter 2021, Chelsea 11 has cemented itself as an iconic style here to stay.
Poppy, our classic ankle height Chelsea Boot was one of the first styles to be lasted on our new women's D fitting 617 last. Pulling inspiration from the men's 'The Black Editions' collection, Poppy sports an oversized lightweight cleated sole from Vibram. Both Chelsea 11 and Poppy offer fashion forward styling, as outlined below by our two esteemed Guest Authors, Hetty & Aleks.
For Him - Chelsea 11 in Black Scotch Grain
If boots like Crockett & Jones' Chelsea 8 are designed to be simple and understated, the Chelsea 11 in Black Scotch Grain is designed to make a statement. Lasted on the generously proportioned 335 last with imposing cleated rubber soles and storm welts, it's an uncompromising work of English shoemaking. This boot, like C&J's recently released Aldershot, has something of the motorcycle boot about it and in Black Scotch Grain I can think of few boots better suited to wearing with a pair of dark raw selvedge jeans, ideally from a niche Japanese 'Osaka Five' label like Warehouse, Full Count or Evisu.
Of course, choosing jeans from an Osaka Five brand (the Osaka Five, by the way, are the Japanese denim labels who bought up all America's old shuttle looms in the 1950s and '60s and saved them from scrap) is fitting not least because this particular boot is one of C&J's 'The Black Editions', all of which are influenced by Japanese style. With your denim sorted, choose some suitably thick knitted socks, a chunky knitted rollneck and a serious leather or waxed cotton field jacket and you've got a rugged weekend look that'll take you anywhere. All you need now is the motorbike! – Aleks Cvetkovic
For Her - Poppy in Black Calf
Ah, the Chelsea Boot, a thing of beauty, with no laces to disrupt that exquisite leather. But disrupt it you must, as you pull the boots on and off, loosening that quality leather to its ideal texture over time, meaning these are possibly the pair you'll turn to on days when speed is top priority (get yourself a shoe horn). I implore you to steer away from wearing trainers at the weekend, and instead opt for a pair of boots (I was stopped in the street just yesterday wearing mine, and told my questioner with pride that my boots were 'from Crockett & Jones', and the best investment she could make for her future comfort). I like to wear mine with cropped trousers that sit just at the top of the boot, or even show a little ankle. I think this makes the leg look longer (some sort of clever optical illusion, which I tend not to question too much) and a black trouser with a soft kick flare with an Poppy Ankle Boot is a very chic look. I've recently bought some black spotted tights, paired with these and a silk midi skirt in a burgundy or dark green is one option for my many winter meetings in town. – Hetty Lintell
Get the look
Black Scotch Grain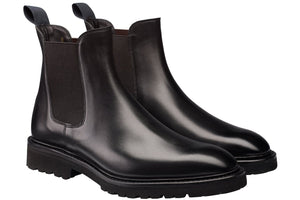 Black Calf